Situated at Melbourne's Tullamarine Airport,  The Parkroyal Melbourne Airport selected the Aeris Concierge Cloud digital signage solution to display conference and meeting room details to help visitors easily find there way around hotel.  Along with event information the hotel can also schedule promotional content to be displayed.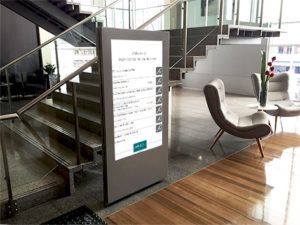 The Parkroyal has 12 meeting rooms along with 2 large conference areas make use of a large 19″ display to provide details of the event, including the clients name, logo and the time of the event.
Larger 46″ and 55″ displays located around the hotel list all the events with icons to point visitor in the correct direction.
Aeris Concierge Cloud was designed for hotels, convention centres and corporate venues.  This cloud based solution is easy-to-use, feature rich, digital directional signage that shows patrons to the right room, restaurant or on-site destination.
To help with promotional the hotel also install 24″ or 46″ LCD displays to all 5 guest lifts to make the most of having a captive audience.
Download here to read more out how JDS can help your hotel or conference venue.